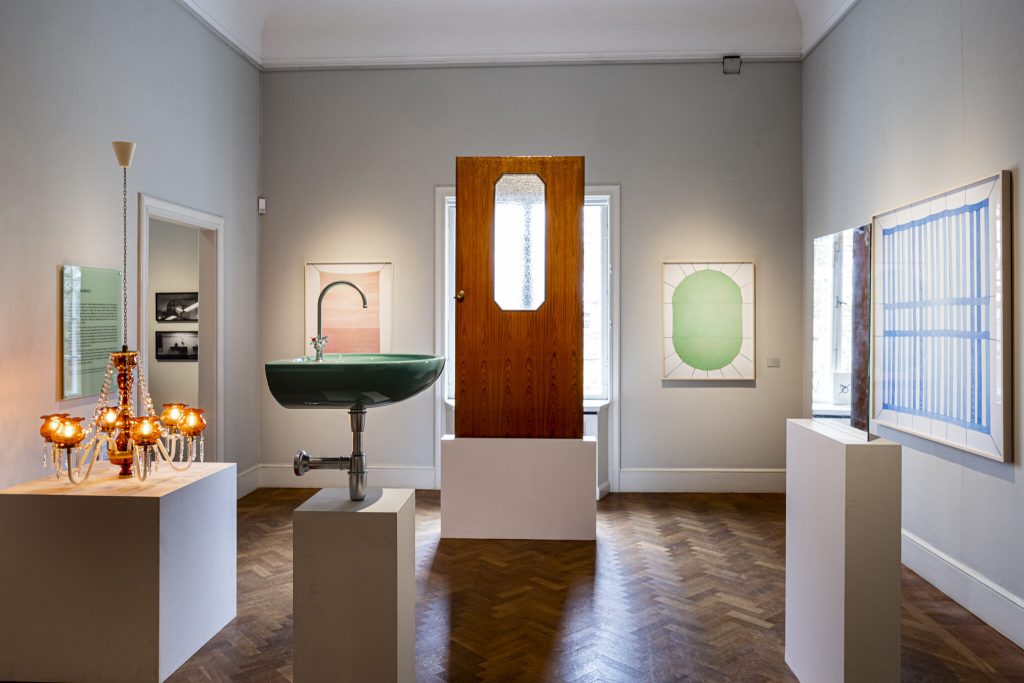 Under en intensiv period vid förra sekelskiftet skapade Signe Maria och Ernest Thiel en av Sveriges finaste och mest omfattande samlingar med nordisk samtidskonst. När konstsamlingen vuxit sig för stor för familjens våning på Strandvägen vände de sig till arkitekten Ferdinand Boberg. Han ritade det vita palats på södra Djurgården som i dag är Thielska Galleriet. Kombinationen utställningsrum och hem var central i utformningen av huvudbyggnaden, som stod klar 1907. I ett brev till Boberg skrev Thiel: "Jag vill ha ett hem dekorerat med tavlor på alla väggarna, det skall vara trivsamt, jag vill bo där."
Ett hem utgår från att Thielska Galleriet en gång var en bostad och syftar till att undersöka och förstärka museets identitet som både hem och galleri. Temat belyses i ett historiskt platsspecifikt ljus och ur samtida perspektiv. I likhet med paret Thiel vill vi inkludera samtidskonsten och har bjudit in sju konstnärer som på olika sätt reflekterar över vad ett hem är; Juan-Pedro Fabra Guemberena, Linda Hofvander, Lap-See Lam, Berit Lindfeldt, Sirous Namazi, Petronella Petander och Helene Schmitz.
Konstnärssamtal i salongen (del1)
Onsdag 4 maj 2022 kl. 18.00 – 19.00
Möt konstnärerna Juan-Pedro Fabra Guemberena, Linda Hofvander och Sirous Namazi i ett samtal i Salongen om utställningen Ett hem på Thielska Galleriet (9 april–21 augusti 2022).
Samtalsledare: Intendent Sophie Allgårdh och museichef Åsa Cavalli-Björkman, tillika utställningens curator.
Installationsbild Urban Jörén
---
Här nu borta sedan, text av Jenny Morelli i Fotografisk Tidskrift #3/2021
---
Artist talk with Linda Hofvander & Bella Rune from Cecilia Hillström on Vimeo.
---
4/4 – 2021 Review by Håkan Nilsson in Svenska Dagbladet
17/3 – 2021 Review by Magnus Bons in Dagens Nyheter
---
Linda Hofvander
The Space of Things
Exhibition folder Cecilia Hillström Gallery
Text: Magnus af Petersens
Graphic Design: Waters Löwenhielm
Final Art: Jakob Brundin/Kobben Design
Printing: Göteborgstryckeriet
Studio images from IASPIS by Jean Baptiste Béranger
---

Linda Hofvander | The Space of Things
Cecilia Hillström Gallery
12 March–30 April 2021
In her third solo exhibition at the gallery, Linda Hofvander presents a new project titled The Space of Things that stems from a residency at IASPIS which took part during the winter of 2020/2021. The exhibition includes new photographic work together with objects and a large-scale wallpaper which all relate to aspects of the house she grew up in.
Linda Hofvander's new colour photographs show textiles in various shapes, stretched flat and pinned against a white wall. Each image is almost filled by a slightly worn, brightly coloured, but faded cloth with a 70's or early 80's feel: yellow, red, pink, green, blue and a light baby blue. Each cloth is made up of smaller parts from a larger piece, perhaps a sheet or a curtain, that have been stitched together to form distinct, geometric shapes. The sharp photographs are taken from a straight angle and in spite of the flatness of the motif, the tactile textures of the textiles are present in a sensuous way.
–Magnus af Petersens 
A small publication will be released in connection to the exhibition, with a text by Magnus af Petersens, curator and writer, and design by Waters Löwenhielm. 

---
https://openstudiosspring2021.iaspis.se/
Visit Studio #7 Click on the film to start from loop 
————————————————————————-
Artist in residency at IASPIS Stockholm
1 October 2020 – 31 March 2021
————————————————————————-
Plats för rörelse – Tore A Jonassons samling, Konsthall 16, Riksidrottsmuseet, opens 9 October 2020
————————————————————————-
I relation till – en utställning om rum och plats (In relation to – an exhibition about space and place), Centrum för fotografi, 11 September – 4 October, with Savas Boyraz, Lotta Törnroth, Inka & Niclas och Linda Hofvander. Curated by Kristyna Müller.
————————————————————————-
Stockholm stad Kulturstipendium i fotografi 2020
Motivering
Med storformatskameran som verktyg undersöker Linda Hofvander tid, rum och avgränsningar. Den fotografiska realismen omarbetas till suggestiva konstverk som installeras i form av spatiala och minimalistiska kompositioner. Vardagens motiv transformeras till konstnärens skimrande abstrakta och tekniskt precisa bildvärld.
https://start.stockholm/aktuellt/nyheter/2020/05/stockholms-stads-kulturstipendiater-2020/